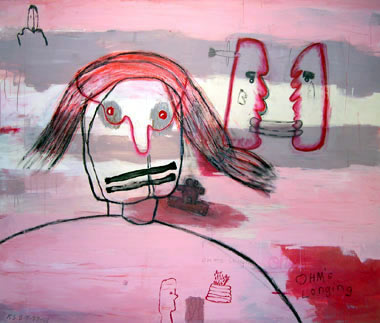 Submitted artwork/Karen Sullivan
They begin with simple lines, faces emerging from those lines. Artist Karen Sullivan often asks herself, "Where does art begin?" This acrylic, crayon collage "OHM's Longing #1" articulates her inquiry.
Karen Sullivan's work begins with doodles.
"I save them by year," she said.
The Eureka artist has been collecting them for about 11 years.
"I have probably literally thousands of them by now," Sullivan said.
A collection of these "doodles" occupies one wall of her latest exhibit, titled "In Pursuit of the Invisible," on display through April 3 in Eureka's Morris Graves Museum of Art.
Oftentimes, the doodles become, in whole or in pieces, parts of several different painting or drawing series, Sullivan said.
The works on display in the museum include doodles begun when Sullivan's mother was terminally ill with Alzheimer's disease. The pieces of paper include notes about pills and care services for her mother. They also include different faces and geometric shapes.
"These shapes are very, very intense for me," Sullivan said. "They're so heavily colored, they're embossed."
She had spent long hours on the phone speaking about and tending to her mother's needs.
A lot of times when Sullivan was on the phone she would draw pictures and didn't realize what images she was creating.
"I didn't feel like I was doing art," Sullivan said. "When my mother was dying — it just makes me cry — she was talking a lot and I couldn't understand what she was saying and I would have given anything to know that. … These heads are something about communication or lack of communication. … Being in this world — are we alone or are we with others?"
Her mother died in 1992.
Sullivan began collecting the doodles in earnest and began to view them as art following a meeting with a Los Angeles art consultant that year. She had taken sculptural works and slides of the doodles to have them looked at by the consultant.
"She said, 'Your work is so extrinsic. Where's the intrinsic?'"
Then the consultant looked at the doodles.
"She said, 'Now, this is art,'" Sullivan said. "It was very personal, very inner. … I knew she was right."
The museum exhibit of ink, acrylic, charcoal and oil-pastel works also includes pages of shorthand glued onto the canvases, pages from books she discovered among her father's things after he died in 2000.
Sullivan's mother was a legal stenographer and her father a lawyer, with whom her mother worked.
"My mother did shorthand," Sullivan said. "She would come home and she would write things in shorthand, but she would never tell me what they were. … There (are) a lot of magic and mystery to me in shorthand."
Sullivan's work also comes from her dreams. Sullivan might use pieces of dreams in different series of work.
"B. A. Redux, Redway," completed last year, contains a shorthand page, the face images and other small pictures, such as Sullivan's former cabin in Redway and references to the Eel River, a river precious to Sullivan, but one she feels is being "ravaged."
The exhibit also includes "three-dimensional doodles." A doll-house style display sits in a corner containing cut-out drawings set against a backdrop of other drawings.
"Art is a collaboration of artist, the materials and the other," Sullivan said. "Where does art start? … When is it just a doodle or when does it become art?"